Hello everyone!
Today I'm excited to announce that I'm changing my position and moving to a great team at PKI Solutions starting with July 1!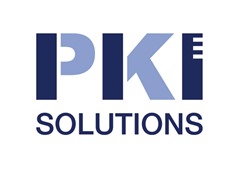 As you may know, I recently was graduated as bachelor in computer science and it is a great time to make another step forward. I wanted to progress in PKI area as even stronger specialist. Unfortunately, there is no PKI market here in Latvia (where I'm living) and had two options: become another regular software developer here in Latvia or find opportunities outside of my country. I was looking for a not very big team where I could develop myself and (it is very important) where the team can benefit from my knowledge and experience. While looking for job opportunities I realised that I'm not fitting good many positions, because either, overqualified or underqualified for particular position.
I heard about Mark "The PKI Guy" Cooper from his years at Microsoft and knew him as a world-class PKI specialist. Mark is a president of PKI Solutions, they offer PKI consulting services and run PKI training. I didn't see myself there, because PKI Solutions is US-based and relocation to US isn't an option for me, but pinged him anyway, maybe he could have options in EU. Otherwise, PKI Solutions is a perfect place where both parties can benefit: I can continue my self-development in the area and the company gets a strong knowledge and experience in programming with PKI. Surprisingly, Mark showed a high interest in my work and heritage and made an offer which doesn't require relocation.
During the negotiation of the deal, Mark showed himself as an awesome man with a clear vision of his business' needs and how I can fill certain gaps to make the PKI Solutions a solid all-around team where each piece consists of strong specialists in particular areas. In addition, Mark expressed a wish to continue the support of all my public work: blogging, technical forums and open-source projects. These days community is vital for IT market, you have to support the community and you will get paid back eventually. And I will play an integral role in making the PKI Solutions a more community-oriented company though knowledge sharing.
Along the personal move I'm moving my public projects to PKI Solutions as well, because we will build new tools on top of existing frameworks. These tools are moved:
I will continue these tools development as open-source projects. Nothing will change to existing users, it is only brand change.
As a PKI Solutions employee I will continue blogging about PKI and CryptoAPI at https://www.pkisolutions.com/author/crypt32/. I will continue to maintain this blog in future so no existing link will break, but all new PKI-related posts will go to new blog.