This is a second part of the Certificate Autoenrollment in Windows Server 2016 whitepaper. Other parts:
---
Certificate Autoenrollment Architecture
This section discusses the autoenrollment architecture, an analysis of the components of the autoenrollment process, and working with certificate authority interfaces.
Autoenrollment internal components
Autoenrollment consist of several components installed on each computer. Depending on environment (Active Directory or workgroup) some components may present or not present. The following diagram outlines autoenrollment components and their high-level interactions in both environments: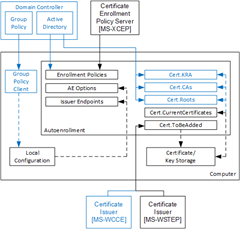 The meaning of each component is provided in next sections.
Group Policy client
This component is not available in workgroup environments.
Client module that is responsible for Group Policy retrieval and processing from domain controller, policy storage and policy maintenance on a local computer. Group Policy client updates local configuration with certificate enrollment policy (CEP) information.
Local configuration
System Registry storage that contains information about certificate enrollment policies (CEP). This information is then used to populate configuration for: Enrollment Policies, AE Options and Certificate Issuers components. Local configuration is stored in System Registry in HKLM and HKCU registry hives:
SOFTWARE\Policies\Microsoft\Cryptography\AutoEnrollment\
Enrollment Policies
Contains a collection of CEPs. In Active Directory environment, a LDAP domain policy is added by default. XCEP policies must be configured by an administrator in Group Policy on domain controllers (available only in Active Directory) and/or using local configuration tools. Each policy contains the following notable properties:
Read more →