I think, I have to publish several articles that would cover common PKI/ADCS administration tasks with PowerShell by using my PowerShell PKI module (of course!). Today I'll cover very simple, but very common task: managing pending certificate requests.
In this post we would propose the following scenario:
IIS admin requested certificate for internal SharePoint portal
Certificate template is configured to require CA manager approval to issue the certificate.
No certificate will be issued until CA manager review and approve the request.
Just to make it clear, CA manager approval is configured in the certificate template, as follows: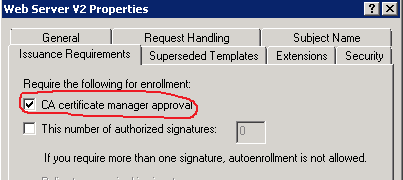 you, as CA manager, received notification about incoming certificate request. Your task is to review the certificate request to ensure that it is properly constructed and conforms internal security policies and then make decision: approve or deny certificate request. You can do this by using Certification Authority MMC snap-in, but this would require a lot of clicks and without having a chance to automate this. Another solution that includes PowerShell offers you great automation capabilites.
Read more →