Yesterday I released another version of PowerShell PKI module v3.1.
Though, this release is not that big like v3.0. Only 1 (one!) new command is added (Get-EnterprisePKIHealthStatus) and various bug fixes (as usually). On the other hand it includes very important things which are hidden behind the scene.
The project is growing and I have to battle hard with poor design decisions I made previously. Of course, I could break everything and make it as per all guidelines. However, it is too late, 3000 downloads for the past 7 months is not a joke and I can't simply break it.
Next sections will cover some development details, so you can scroll down to the end of post to get the right link :)
ASN.1 type system
First, I almost polished my ASN.1 parser, it is now rewritten by using more efficient code. For one function I was forced to look for some help on StackOverflow. The lesson is learned and now I have fairly efficient code where it matters most. You can ask, why I pay so much attention to that ASN.1, while even PKI administrators (not to tell about other systems administrators and PowerShell users) have a very-very little knowledge about ASN and do not use it directly. The truth is that entire Internet PKI communication system is based on ASN.1. What is your digital certificate? It is ASN.1. What is your certificate request? It is ASN.1. What is PKCS#X? It is ASN.1. An ability to read, decode, encode ASN.1 data is a "must have" for any PKI developer. CryptoAPI has a rich support of ASN.1, but .NET do not. Although I like CryptoAPI as it can do things in few lines and very quickly while managed implementation is bigger and slower, I decided to move common classes to managed code. Mostly because of unmanaged memory management. When you create CRL object, its handle is not released in normal ways and users do not release them as well.
I'm planning to extend my own ASN.1 type system support by adding classes for each universal tag. Currently, only two classes are exposed: http://pkix2.sysadmins.lv/library/html/N_PKI_ASN_Universal.htm, but there are a bit more (currently marked private):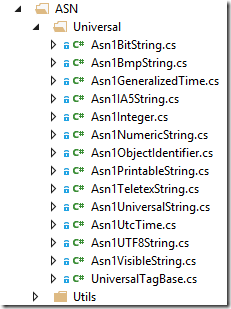 In addition, entire ASN namespace will be removed from PKI.Core.dll library to its own assembly, because I'm actively using it in other projects.
X509Certificates namespace
I'm constantly adding new certificate/CRL extension support (both, Microsoft-specific and Internet PKI) in the X509Certificates namespace to provide ease access to extension data. Worth to mentioned that I rewrote X509CRLDistributionPointsExtension class to fully match RFC5280 specifications. Now this class can decode partitioned and non-standard (though, within RFC standard) CDP extension. Although, this extension now looks a bit complicated, a shortcut method GetURLs helps you to easily access URLs in the extension.
Check this namespace with each release, maybe you can find there something useful for you.
Another feature (planned) is to add an ability to read certificate properties when they are installed in the store. Sometimes they may have interesting details. For example, information about private key, enrollment options and so on: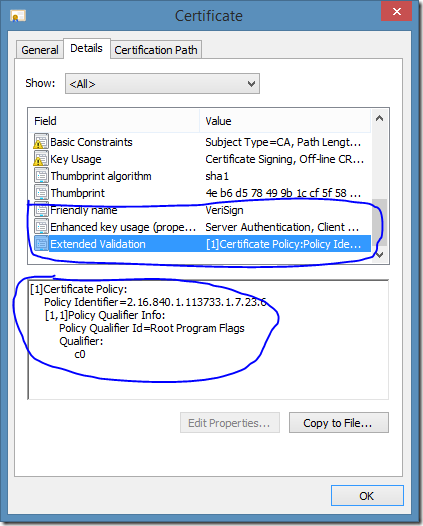 Note that not all details are shown in the certificate UI window. I'm thinking about the best way to implement it, but would be a great feature
Roadmap
With this release, I officially published an official project development roadmap. It reflects my personal vision of module extension with added community requests I consider important or interesting.
Download
---