Hello S-1-1-0, PowerShell CryptoGuy (aka @Crypt32) is here again. Today I want to discuss about X.509 Name Constraints certificate extension. It is not widely used, but sometimes it is necessary. As extension name depicts, it is used to provide constraints or restrictions to certificate subject and subject alternative names (SAN) extension.
Brief Description
Name Constraints extension is defined and described in RFC 5280 §4.2.1.10. Extension presence in an end-entity certificate does not have any effect and is applied only to CA certificates that issue certificates to end entities. Once defined, the extension applies restrictions on any certificates that appear below that CA in the tree. Name Constraints may appear further in the certification path to set more restrictive constraints. It is not possible to set less restrictive constraints at lower levels. This prevents low-level (in the certification path meaning) CAs to violate restrictions applied at higher levels.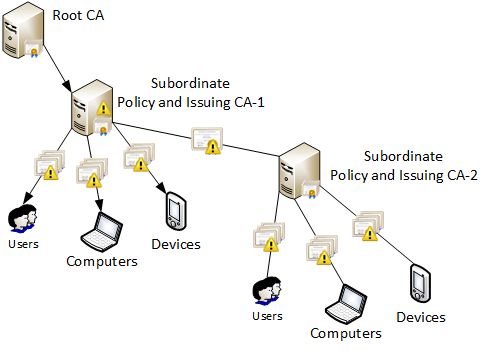 Figure 1 - sample certificate chain
Here we see a 3-tier PKI hierarchy with applied Name Constraints extension at 2nd level (below root). This is indicated by a yellow triangle. Name Constraints restrictions are applied to all directly and indirectly issued certificates. CA-2 doesn't define Name Constraints extension in its own certificate, but restrictions still apply to certificates issued by CA-2 indirectly.
Read more →