| | |
| --- | --- |
| Original URL: | https://blogs.technet.microsoft.com/xdot509/2013/07/13/getting-started-with-windows-azure-part-1-introduction/ |
| Post name: | Getting Started with Windows Azure: Part 1 Introduction |
| Original author: | chdelay |
| Posting date: | 2013-07-13T19:23:21+00:00 |
---
---
Regular visitors to my blog know that I am an expert in Public Key Infrastructure (PKI).  That has been my focus for many years now.  I also have a strong background in Active Directory, previously working for the Directory Services support team at Microsoft.  As Microsoft transitions to a Services and Devices company, I must transition my skill sets as well.  I will continue to periodically blog and talk about PKI.  However, a majority of my focus is going to be on cloud technologies such as Azure. 
So, this is Part I in which will hopefully turn out to be a long running series on Azure.  I will be talking about Windows Azure from the perspective of an IT Professional. 
If you are interested in learning about Windows Azure, the first step would be to sign up for a Windows Azure account.  You can sign up for a Free Trial here:
http://www.windowsazure.com/en-us/pricing/free-trial/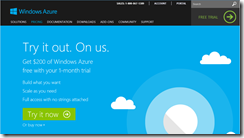 The Trial listed above is currently limited to 1 month.
However, if you have certain MSDN Subscriptions you can currently get an ongoing trial account here:
http://www.windowsazure.com/en-us/pricing/member-offers/msdn-benefits/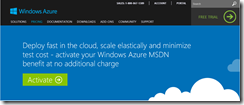 -Chris